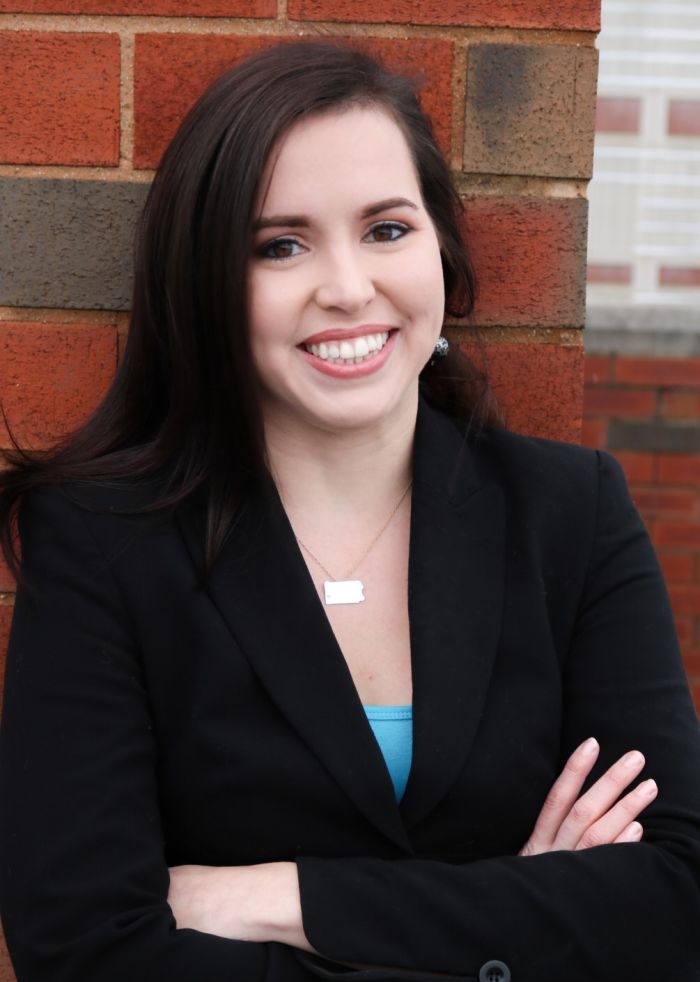 Emily Kinkead, an attorney, advocate, and native Northsider, proudly announces her 2020 candidacy for State Representative in the 20th Legislative District.
"The 20th District deserves true leadership with a vision for the future," Kinkead said. "As a native Northsider and an attorney, I will be a much-needed voice for our underrepresented neighborhoods and a champion for the people who call our community home."
Kinkead, 32, earned a dual degree in biology and political science at Bloomsburg University of Pennsylvania and her law degree at the University of Pittsburgh, and currently works as an associate attorney at the Grail Law Firm. She clerked for two years for Judge Michael Wojcik of the Commonwealth Court, where she drafted more than 60 written opinions on matters including labor, zoning, agency and municipal law, and probation and parole.
She currently serves on the boards of Social Venture Partners and Scenic Pittsburgh. Emily actively volunteers with the Junior League of Pittsburgh, and the Women in Law and Young Lawyers Divisions of the Allegheny County Bar Association (ACBA). She is an alumnus of the ACBA Bar Leadership Initiative 2019 Cohort as well as one of Pittsburgh's 50 Finest 2019, where she dedicated herself to increasing awareness and raising money in the fight against cystic fibrosis. She was also a New Leaders Council fellow and a Coro Pittsburgh Women in Leadership fellow.
Kinkead's passion for public service goes back to her childhood, with both of her parents serving as paramedics in the City of Pittsburgh. Her father went on to put himself through medical school, which helped shape Emily's appreciation for a strong work ethic. "More and more people are denied the opportunity to try for what my dad was able to achieve - to live his dreams and make a better life for his children than he had for himself," Emily explained.
Emily Kinkead has a strong background in government, including time with Common Cause, Democracy Matters, and the National Institutes of Health, where she served as the special assistant to the associate director for legislative policy and analysis.
"Pennsylvanians have lost trust in our democracy, and faith in the ability of their government to serve the people," Kinkead said. "Our problems lie not just at the feet of Republicans in Washington and Harrisburg; we must also recognize those Democrats who are complicit by their silence and inaction."
"We need leaders with the guts and determination to put themselves on the front lines and fight for change. We need leaders who listen to the needs of every community and take those concerns into the halls of power to effectuate long-overdue changes," Kinkead added. "Leaders who fail to champion everyone, including the most vulnerable among us, should be stripped of the privilege of calling themselves our leaders."
The 20th Legislative District includes portions of the City of Pittsburgh, Ross Township, and the Boroughs of Avalon, Bellevue, and West View. The Pittsburgh portion of the district consists of the neighborhoods of Polish Hill, Lawrenceville, the Strip, Troy Hill, Spring Hill, Spring Garden, City View, Northview Heights, Summer Hill, Observatory Hill, and Brighton Heights.
To learn more about Emily Kinkead and the campaign, visit www.emily4pa20.com or www.facebook.com/emily4pa20.
* * *
MEDIA CONTACT:
Schuyler Sheaffer
Campaign Manager
schuyler@emily4pa20.com
814-761-1125